Once we get in touch, I will make sure to learn your vision in detail and give it perfect artistic shape.

In case of digital art you can choose from sketch versions until you are satisfied with the concept. While I finish the picture, you will be able to follow the major steps, if you like, and have a strong influence on the creation itself. Of course, variations are here possible, as well – so in case of doubts, variations can be done easily to make sure the final choice matches your vision perfectly.
If the commission shall be done in the traditional manner without graphics tablet, variations won't be possible once a sketch is chosen.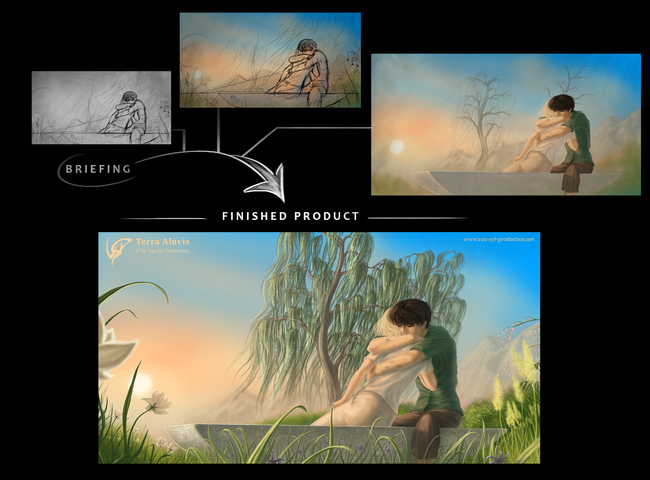 The payment is split: One half is paid after the sketch has been approved and the second half is paid, when everything is finished to your absolute liking. After the payment transaction is completed, you will get the high resolution version of the picture I have finished for you.
– Changes on the picture after this point will have to be charged extra, due to the additional work.
If not defined differently, digital commissions will be done on DINA3 with a resolution of 300 dpi and traditional work on DINA4 paper with a resolution of 600 dpi. The digital high resolution file is in PNG-format.
Basically you purchase a licence to use my work for a certain purpose or project. Any usage apart from the bargained conditions will ask for an extension of the licence. I reserve my right to show the finished commissions in low resolution with appropriate signature in my galleries and portfolio.
The price for the commission depends on: the level of detail, complexity of background, complexity and number of characters, the drawing style and general purpose of use. It will be bargained once we have defined the conditions.
Please take a look at the current price list on my Deviantart profile to get an idea of my price range:
My Commission Prices
You can pay by using SEPA (for Europe) or Paypal (worldwide). If you decide to use Paypal, please bear the following in mind: You pay the transaction fees and in the currency EURO – both options need to be considered by you in the Paypal transaction process.
Please take a look into the website credits and the disclaimer, since any commissions are restricted to the legal frame of Germany.
Thank you.