Welcome to Van Syl Production.
In this creation vault
fantasy

becomes reality.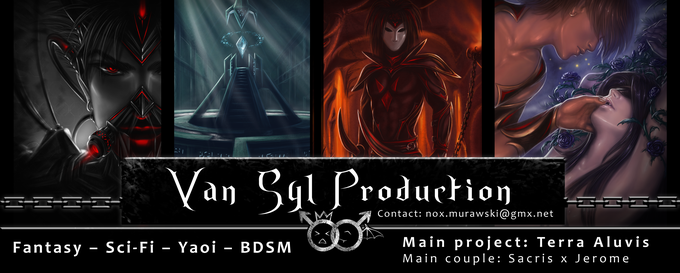 I am a freelance artist for the genre fantasy, science-fiction, boys love and BDSM. I offer illustrations of various kinds – be it …
… concept art or storybook
… action scenes or sensual character scenes
… marvellous fantasy landscapes or sci-fi environments
… object or creature designs
… in semi-realism or manga style
… digitally painted or traditionally drawn

Typography and layout for book covers, t-shirts, websites, game cards, menu designs, banners, tatoos, manga comic strips etc. are possible too, as long as it is combined with illustration work (I don't do photomanipulation).
You are welcome to take a look at
my gallery
and enjoy the art I have already created. I am open to great projects as well as small commissions and look forward to working with you. My commission process includes an extended service that leads you safely from our first briefing to your successfully finished illustration piece. The
workflow
section will give you an idea of the commission process and its conditions in detail.
Here you find
my commission prices
.
Furthermore you will find access to my epic fantasy story
Terra Aluvis
here – to the enchanting world, its creatures, characters and storyline. Feel free to read excerpts of the story and learn about the fate and concflicts that await those who wander on Terra Aluvis.
If you have any questions or are interested in commissioning me, joining our team Terra Aluvis or purchasing
prints or books
, please don't hesitate to
contact me
.
Yours sincerely,
– Nox